I feel bad for our family and friends who have stayed with us in the past. We didn't really provide a very comfortable and inviting place for them to sleep. This is how the guestroom has looked for the last 10 months.
White walls and a bed...boring!
We have plans to put up a ceiling fan soon...please ignore the ugly light.
Granted, the bedding was very nice (not pictured above). My Mom helped out and bought a very nice set of sheets and devet cover for the bed, from Macy's when we first moved in. I also got to finally use the AMAZING down comforter we received from Michele as a wedding present. I added a lamp a few months later and a nightstand, but other than that, the room was pretty pathetic. A few months back I started piling clothes on the bed. I guess that was easier then trying to find a place for them. Well…next thing you know the room is a disaster…and you can't even SEE the bed any longer.
After the great transformation of the sunroom I knew that I had to tackle the guestroom next, especially since they are connected (only way to get to the sunroom is to walk through the guest room). I wanted to use the same color green (consistency is key in keeping the flow between rooms and to make the space look larger). However, I didn't have enough of the Opps paint left and didn't know what color it was. With a few paint chips in hand, I headed to Home Depot to find a close match. I am very happy with the color I chose. It is only slightly lighter then the sunroom color and really NO ONE would ever know unless you tried to touch up the sunroom paint with the guest room paint (I did this just to see the difference).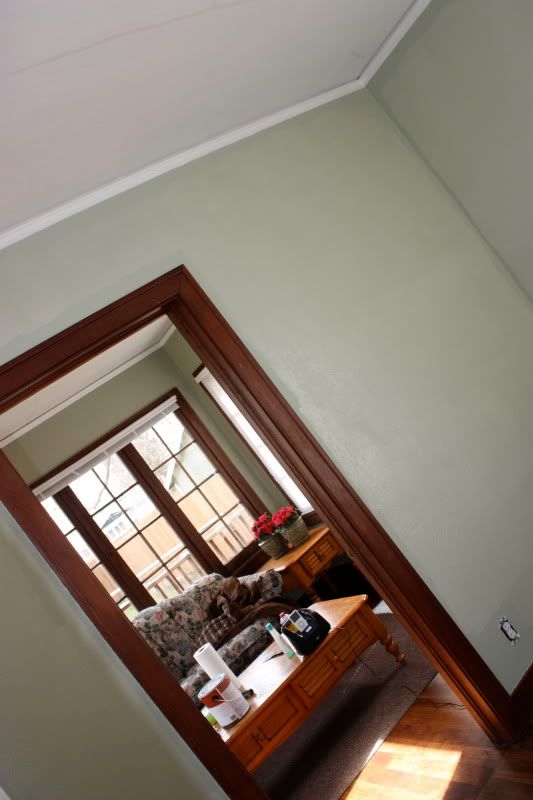 With the room cleared out except the bed, I got to painting early Saturday morning. It was a little hard to paint with a queen size bed in the room, but I managed (luckily the bed slides on the floor pretty easily). I couldn't be happy with how it turned out. After repositioning the bed and changing bedding, adding night stands and lamps, the room is not even recognizable.
I still need to pick up a rug for the room and add some art to the walls. I plan to make a collage of pictures for the wall to the right. I would love to have a space to show a lot of the pictures I took while in Europe and I believe this would be the best place to showcase it. I have already started collecting frames from Goodwill that I plan to paint all the same color. This project probably would be started or completed for many months.

Who wants to be the first guest?